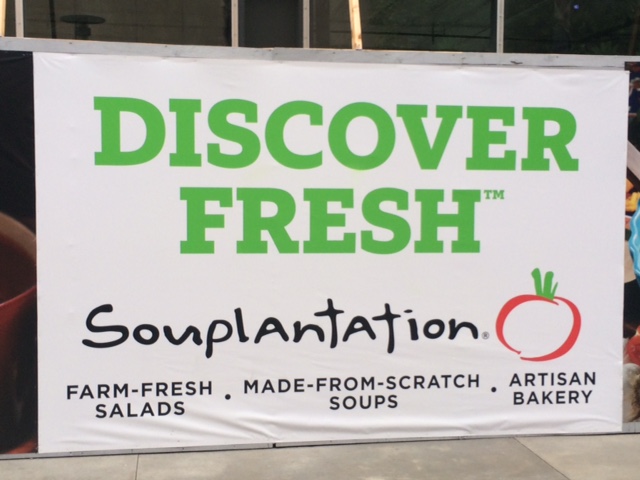 Dining outside of your personal kitchen can be challenging at times when you're trying to eat healthy and clean. This is why SOUPLANTATION is one of my favourite establishments to eat out at. SOUPLANTATION prides themselves on providing a unique experience in dining where you can create your own fresh meals from an assortment of high quality fresh foods from salads, pastas, made-from-scratch soups, baked potatoes and pizza.
SOUPLANTATION  has 128 company-owned restaurants in 15 states with over 300 million guests since 1978 when its first location opened in San Diego. Their prices are very reasonable for an all you can eat healthy and fresh experience while also offering a help yourself takeout alternative.
One of my favourite parts of the SOUPLANTATION experience is of course dessert from their artisan bakery! SOUPLANTATION offers freshly baked breads and muffins, fresh fruit and desserts but the best part of all is that these sweets are gluten free!
I love SOUPLANTATION because it's definitely a healthy alternative when dining out! I love going to the BEVERLY location in LA because after a day of shopping at BEVERLY CENTER and BEVERLY CONNECTION, SOUPLANTATION is the perfect restaurant to unwind at while eating guilt free with the healthy fresh options they offer straight from the farm!
Check out http://www.souplantation.com for a location near you!
I hope you enjoy SOUPLANTATION as much as my friends and I do!
Please leave your comments below & feel free to follow us on the friendly neighbourhood links scrolling down this page!  We'd love to hear from you!
XOXO,
Miss XquisiT